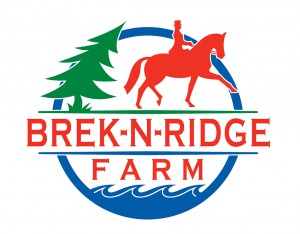 Brek-n-Ridge Farm's HORSE-A-CULTURE 2019,  a Morning and an Afternoon Program 
DRESSAGE, English or Western MORNING PROGRAM IN ARENA'S AND FIELDS
 "The object of dressage is the development of the horse into a happy athlete resulting in a horse that is calm, loose, supple, and flexible but also confident, attentive, and keen thus achieving perfect understanding with his rider."
The object of dressage at Brek-n-Ridge Farm is the development of the riders to become skilled and calm in all situations, flexible and balanced in using their arm, leg and body aids, aware in using their aids separately and in harmony in communicating with their horses and riders working toward being confident, attentive, and smart thus achieving understanding with their horse. A Dressage lesson with Maryal Barnett and auditing the Vanessa Voltman Clinic is complimentary in the Lesson Programs.
Join Andrew and me to share with you the joys and process of riding, no detail too small and no goals to large.  We will have fun, learn a lot and teach our horses to become better-riding partners, better trained, and you as a rider, a safer equestrian.
The Morning Program includes a Maryal Barnett Dressage Lesson and Test Riding from Intro Level up to Second Level
$1775.00 includes 7 weeks, 2-week sessions available $550.00
Brek-n-Ridge Lesson Horses Available by Appointment
Tuesdays, Wednesdays and Thursdays July 2 – August 15
 SADDLED, WARMED UP AT 10:30 AM
SCHEDULE
July 2, 3, 5  Week 1 (No lessons on Thursday, July 4thHoliday)
Ride IntroTest A  The basic dressage test all horses and riders can easily achieve
Ride Intro Test B  The second easiest dressage test all horses and riders need to achieve
July 6 AM Saturday Audit or sign up to ride in the Vanessa Voltman Clinic $125.00
July 9 Week 2 Tuesday afternoon audit or sign-up to ride Maryal Clinic,
10 (Wednesday morning complimentary Maryal Clinic),
11   Ride Intro Test Cand Training Level Test 1
July 16,17,18. Week 3
Daily Practice Braiding Required
 Ride Training Level Test 2 and Test 3
July 20 & 21 Friday & Saturday Cedar Creek Dressage Show
5 AM Departure 5307 Hodge Rd. Kingsley MI Sign -up with Liz
July 23, 24, 25  Week 4
 Ride First Level Test 1,  Learn First Level Test 2
July 27 Saturday BnR Mock Horse Show
Braiding Required
Harry & Snowman Screening 6 PM at Birchwood CC, Arrangements required  to attend by Liz
July 30,31, August 1. Week 5
 Ride First Level Test 2 and First Level Test 3
August 2,3,4, Karin Offield Clinic Audit Only, 5 Riders, No Ride Times Available
 August 6, 7, 8  Week 6
Ride Second Level Test 1
August 10 Saturday Morning BnR Final Show Two Tests of Choice
August 13, 14, 15. Week 7
 Ride Second Level Test 2
INSTRUCTOR'S– ANDREW FIGURES on Fergus and KARIN REID OFFIELD on Merlin
Assisted by Elizabeth Sanchez
 AFTERNOON PROGRAM
BREK-N-RIDGE FARM'S HORSE – A – CULTURES AFTERNOON PROGRAM 
THE ABC'S OF LEARNING ON THE TRAILS AND FIELDS
3 rides per week, for 7 weeks Tuesdays, Wednesdays and Thursdays July 2 – August 15th
July 2, 3, 5 (No lessons on the July 4thHoliday);  July 9 ( A morning ride) ,10,11;  July 16,17,18; July 23, 24, 25; July 30,31, August 1; August 6, 7, 8; August 13, 14, 15
$1775.00 includes 7 weeks, 2 week sessions available $550.00 Brek-n-Ridge lesson horses are available for students, or for those of you that wish to ride twice a day. Ask for the special twice a day fee.
 Be saddled and in arena at 1:30 PM
The Goal this summer at B-n-R is to spend each week together, riding to develop thinking skills and become riders able to ride off property, in the B-n-R fields,  and to enjoy ourselves with our horses as we learn horsemanship. Our lessons will include trail rides, BBQ's, drill team practice, trailering skills, horse and equipment stable care, preparations for off property rides and more.
Join Andrew and me to share with you the joys and process of riding, no detail too small and no goals to large.  We will have fun, learn a lot and teach our horses to become better riding partners, better trained, and you as a rider, a safer equestrian. This is our summer program.
Owning a HorseGrooming is a very important part of equine care and maintenance. All equestrians should be familiar with the different grooming equipment used on horses including the curry comb, mane comb, soft bristle brush, firm bristle brush, hoof pick, and sweat scraper. Bathing your horses is a skill and regular sheath cleaning is beneficial. Horsemen ship includes being able to operate body clippers to trim excess hair, and you need to able to judge the severity of an injury, deciding whether a vet should be called or if the injury can be handled by the farm staff. Owners should also be able to ask questions of farm staff to detect small changes in each horse's behavior or eating habits that could indicate the start of a problem.
WEEK ONE– Accuracy –Over time horse professionals have determined methods of riding and handling horses for the safety and fun for all. We want riders to ask your horse the right questions. How should you be teaching your horse what to do? For you, and for your horse, learn to decide how your state of mind and your accuracy can make a difference in the riding relationship with your horse. For example, the willingness to negotiate obstacles. You'll encounter obstacles on the trail, whether you ride in the city or the country, on groomed trails or open pasture. In the city, it could be traffic cones, high curbs, and trash bags; in the country, your horse might need to step over fallen logs, cross creeks, navigate steep hills, or pick a path around or between boulders. Your horse might be willing to navigate obstacles, but to do so, he needs the skill to move backward as well as forward. A narrow trail might dead end without room to safely turn around. Your mount must be able to back up slowly, serenely, and in a relatively straight line.
WEEK TWO–Balance – Asking your horse to stay in balance and observe why this will help the horse and the rider stay safe.   Learn how and when to create balance to make a difference in your riding relationship with your horse. For example, standing quietly. A good trail horse stands calmly anytime he isn't asked to move out, including for mounting and dismounting, being tied, adjusting tack, and waiting for other horses.  We want a horse that will stand regardless, even if there's something scary up ahead, behind you or even in the distance through the arena doors.
WEEK THREE– Correctness –Learn how correctness, and conformity of tried and true methods in the handling of all horse decisions will make a difference in your riding relationship when you are by yourself or when riding in a group. Learn how to avoid problems.  Solid basic training. Your horse needs to be well-trained and able to walk, trot, canter, and stop on command, as well as respond to leg cues. Unless these basics have been mastered, he isn't considered safe to ride. For example, the ability to side pass is useful for more than opening gates without dismounting. Like backing, you can use side passing to move your horse off a narrow trail to let other riders or hikers pass, maneuver him out of tight quarters, or park him in a line for a group photo.
WEEK FOUR–The Development of becoming a good horseback rider. We teach horses independent action. A good horse has the ability to operate as an individual at all times. He listens to his rider rather than the other horses in the group. Not only will he be willing to leave a group and head out on his own, but he'll also allow other horses to leave him without a fuss. This trait could take years to teach, and every horse you will ride will have had different trainers and riders in his past that may or may not have paid attention to this training goal of independent action.
WEEK FIVE– Development of Training your horse to be Safe and easy to Ride
We try to teach horses to be startle-free. Regardless of where you ride, on a trail or in the arenas, you'll encounter objects that might blow by your horse, brush against him, catch his tail,  or make loud noises. In addition, you might drop your gloves or sunglasses or break a saddle strap. A good horse takes these distractions in stride, without becoming agitated. For example, thinking riders spend a long-time getting horses used to traffic. It's not enough for your horse to be calm, you have to expose him to the kinds of scary activity he might regularly encounter, or encounter by surprise.
WEEK SIX– The Development of training a good horse.  Ideally, we want our horses to be scanning the trail and terrain and watching out for both of you. A horseman says. "I've seen horses walk up to an obstacle and wait for the riders to guide them around it. I want my horse to pay attention to where he's going and choose the best path for us." To be able to be tuned into your horse, to trust your horse and have your horse trust you are the life goals of owning and keeping a horse. Each day, for a rider, represents the opportunity a rider and his horse can have together to achieve these goals – to work toward better results and a deeper understanding of the reasons Horsemanship is important.
WEEK SEVEN– The Development of the Social Horseman. Let's not forget good group manners. Your riding pleasure will be diminished if your horse's poor manners force you to ride a distance from the rest of the group. Crowding, biting, kicking, or racing is unacceptable, no matter in what part of the group you are riding. If your horse kicks on occasion, attach a red ribbon to his tail. Then make sure everyone in the riding party understands the meaning of the ribbon. Novice trail riders might think a ribbon on the tail is simply a decoration, like braids in the mane. A good horse should be sociable and so should the rider on that horses back.
Instructors Andrew Figures and Karin Reid Offield on Merlin, assisted by Liz Sanchez on Annie
Here are some examples of the work we do each week, in a clinic, a series of lessons, or during our summer programs. Bring us your horsemanship interests for yourself of your riding children and Brek-n-Ridge will design a clinic just for you. 
Week   — Safely leading and handling your horse. Basic Groundwork in the stable and grooming stalls.  Mounting & dismounting in all conditions.Trail safety and trail riding around Brek-n-Ridge. Riding in the arena. Your position – let's fix it!  Riding with others and what rider has the right-a-way, and what rider going what direction are you responsible for avoiding? Four basic steering techniques and how to follow the figures. Which technique to use and when. How to stay on the rail when your horse wants to cut corners and an easy lesson about what to do in the corners of an arena.  What are the letters in the dressage arena and how are they important to your riding every day inside and outside of the arena?  Geometry and how to ride a round circle. Trail Rides.
Week   — Riding outside in various weather conditions and how to put your horses at ease. Who can lead, and who follows? Understanding herd bound horses. Reading the footing under your horses' feet in field and forest riding. Who is in charge of your horses' calmness? What can you do when he becomes unmanageable? Opening and closing gates on horseback, some tips. Mounting outside on your horses. Tying your horses up to trees, in cases of emergency or for picnics. What to look for in the woods before planning to dismount. Why dismount out on a trail, and when do you never dismount? Trailering your horses. Part one of a five-week Program. Trail Rides.
Week  — Geometry in the fields. Transitions from a walk to halt.  Halt to trot.  Trot to canter.  All downward transitions from a faster gait. How to plan for a change of gait? Is there a way to help your horse know what you are planning to do?    The importance of balance during transitions.  What difference does your horse's body shape have to do with upward transitions from the walk to the trot and the trot to the halt? Anatomy 101 and riding a differently shaped horse. How to ride a new horse? Trailering and equipping your Rig and trucks for safe hauling. Trail Rides.
Week — Does your horse have a good walk or an average walk? What difference does it make? Your horses' anatomy and your walk. When you hand walk your horse before mounting, learn how to watch his hoof prints in the sand. Can you tell if he Is sore or limping? When you mount, how do you take up the reins?  Will your horse gladly accept a tight rein? If not, why not and how to make this an easier task. What is a connection and how to keep talking to your horse with a loose rein or a tight rein? When to be firm? The rider's core, how does this matter to a horse? What about your position? Loading your horses and safety rules to follow. Trail Rides.
Week  — How to teach your horse to go fast and slow with your seat, legs, your hands, your spurs, and your whip. How does the rider stay in balance for each gait of the horse? Riding up and down hills and helping your horse stay in balance. Why do men like to gallop up hills? How to ride your horse safely down a steep hill? Health and wellness for your horse and why it will affect your daily ride. Choosing what you want to practice with your horse, how long should you practice for and what happens when you cannot accomplish what you are working on. Off property ride – trailering, staging the ride and coming home safely.
Week Six — Riding a "western dressage" test. How to follow the 5 weeks of previous lessons and follow the directions of a dressage test and feel that you and your horse accomplished a job to be proud of. Riding in front of an audience. Why is it important to learn this technique? What are "scores" and what should they mean to your own evaluation of how you are progressing with your horse. Judging yourself. Changing yourself by fixing bad habits. What have you learned this year?
 Thank you to all the hardworking and writing horsemen and women where we find your words and descriptions to share with our website readers. 
WHY HORSES  "Humans and equines have a partnership that goes back millennia. There is a mystique which surrounds them.  They are large, beautiful, flighty, non-judgmental, sentient beings that are willing to share themselves with us.
Horses are prey animals which means they flee from danger and find safety in a herd; therefore, they dwell in the present moment. Their primary communication style is nonverbal. These powerfully social animals have evolved to be on alert to even the slightest changes in their environment.
Humans are predators; we turn to face danger and think as individuals. Horses view humans as predators.  When we take time to observe horses living in herds we can learn a great deal about their social structures and group dynamics. Each horse serves a role in the hierarchy. When humans begin to understand the language of the horse and are willing to pay attention to the feedback they provide, perceptual shifts can occur. As horsemen and women, we value the importance of practicing "the presence of mind" around the horses. Learning how horses utilize movement in their bodies to communicate and herd relationship patterns can teach us valuable lessons about how we see ourselves and our relationship to the world around us.
Partnering with equines provides opportunities to teach critical life skills such as trust, respect, boundaries, honesty, non-judgment and clear communication. Through authentic interactions with horses, people are able to practice heightened self-awareness.  Becoming cognizant helps reveal patterns of behavior and provides us with the chance to see new possibilities.  When we connect with horses our confidence increases, our senses become heightened and our ability to empathize is expanded; all contributing to creating a more holistic sense of self." Thanks to Misty Meadows for providing this great explanation
AT BREK-N-RIDGE FARM we can share with you how to further your understanding of your horse, their minds and the willingness of both you and your horse needed for those "perfect rides"  This series of learning is for you whether you are a serious rider of any age with aspirations of a gold medal, a blue ribbon or as a rider that  wants to know how to get through the woods more easily, more safely and to have more fun with your horse!
HORSE TRAINING AND CLINICS 
Call us to inquire about lessons, participating in upcoming clinics or horse shows. Our new web page: CLINICS/SCHEDULES has listed many of the confirmed dates. For horse training and our new trainers' clinics information call us at 231-242-0012 to make an appointment to discuss specifics, email us for pricing or come by the stable to learn about the costs and our availability.
ADDRESS 7359 South Lake Shore Drive – a few minutes from Harbor Springs, Michigan
Friends coming this way with horses? Overnight stalls are $40.00, day stalls $20.00. Call us for availability. Quarantine requirements may apply.
Clinic costs vary with the instructor. Contact us if you would like your instructor to give a clinic at Brek-n-Ridge. Our arena's, stalls are available to outside clinics.
The costs to teach instructors in our Instructors Program: Safety in the Stable, Arena and on Horseback vary on a per person basis. Working student positions to qualify for acceptance into this program may be available seasonally.
Three-day clinics with Karin available.
Horse Equipment Laundry Service $50.00 per month – Keeping all your equipment clean and dry, safe from mildew and breakage. Save your Washer and Dryer!
Tack Cleaning Services $50.00 per month. Keeping all your leather equipment mildew clear and safe from rot and grime.
Horse Showing with Brek-n-Ridge Farm
Show fees $120.00 per day, per horse, includes coaching of the rider and training/showing the horse. We will be traveling downstate for shows as well as going to small schooling shows for the summer of 2019.  Join us.
Additional costs, (instructor travel expenses, accommodation and a per diem of $30.00 a day) will be divided among the clients
 If grooming and handling are requested, the charge is $50.00 per day. The groom's per diem fee and accommodations will be divided equally among our clients. A show preparation fee that includes mane pulling, tail grooming, bathing and clipping is $35.00 per horse
Braiding $45.00. Mane pulling $25.00. Hauling $2.00 per loaded mile. Insurance coverage for hauling will be required
 Contact us for an appointment to discuss specifics  
231-242-0012, lessontime@yahoo.com
REHAB – BY RESERVATION  
If stalls are available, we may be able to offer full rehabilitation services for acute injury care, post-surgical care, and the following rehab programs…please ask your vet to call Brek-n-Ridge to discuss. We have been doing this work since the 1990s in Michigan and Arizona
Respond Cold Laser Treatments
Low-Level Laser Therapy (LLLT) with Respond™ Cold Laser
The Respond 2400 XL is a class IIIB cold laser. They are called cold lasers or soft lasers because they do not emit heat and therefore do not cause tissue damage. This device is FDA approved as a "non-significant risk" device.
At this time, scientific studies indicate that cold lasers are more effective at penetrating the skin than LEDs (Light Emitting Diodes) and are therefore more effective. Laser light is able to penetrate through tissue layers and help to stimulate cellular energy and metabolic processes which promote healing and tissue regeneration (including increased collagen and epithelial production). Cold Laser light can also stimulate the release of natural pain-killing endorphins within the body which facilitate long-lasting pain relief.
To read more about the benefits and effects of LLLT demonstrated by thousands of double-blind studies done in both clinical and laboratory settings, please see the Laser FAQ site that Respond has put together.
Cold Lasers are often used for: Tendon and ligament strains, tears, lesions, bowed tendons, wounds, sore muscles and bruises, and sore backs. Cold Lasers are a non-invasive way to stimulate acupressure points in navicular, bruised feet, and laminitis cases.
Local veterinarians are supportive of using a cold laser in addition to regular treatment protocols for soft tissue injuries and wounds. The Respond cold laser is also a great tool for massage therapy in helping to treat trigger points. We work closely with our vets.
Therapeutic Ultrasound
Other Rehab Offerings 
Hand walking, under saddle controlled exercise and legging up
Bandaging (standing/support wraps, simple/complex wound bandaging)

Cold/hot hosing, packs

Hoof Soaking, bandage changes, severe wound care
• Riding on perfect footing in the indoor arena. Maintained daily.
• Handwalk
• Intramuscular injection
• Bandage/wrap
• Medicated bath
• Body clip
Daily logs and regular owner/trainer/agent/veterinarian updates and interface
Game Ready• Game Ready Compression Boots
This unit delivers a dry cold with active compression which can be helpful as part of a treatment program for many conditions involving inflammation and soft tissue injuries.  These include acute tendon injuries, suspensory desmitis, laminitis, and splints.  Additionally, horses may benefit from this therapy to minimize swelling post-operatively in certain procedures.  Treatment sessions are customized to your horse's needs.
Magnetic Blanket
To increase the performance of sport  horses

To increase the suppleness of the horse

To vitalize the organism

Muscle tension

Rheumatic arthritis

Slow healing bone & degenerative joint injuries

Inflammation & Swelling

Inhibited blood circulation/metabolic disorders
We love horses and we will do our best to care for your animals, every day.