TESTIMONIALS
AFTER A 50 YEAR HIATUS
I am a 65 year old woman who has taken up riding after a 50 year hiatus. When I decided to purchase rather than lease a horse, Karin Offield helped find my horse Tyme and he has been a wonderful addition to my life. I want people to know how outstanding the leadership and management is at the barn. Although most of my riding is trailriding, Karin and Andrew provide wonderful lessons in dressage to teach anyone how to be a better rider. The clinics are top notch and the lessons are challenging yet terrific. I recommend Brek-N-Ridge Farm to anyone interested in learning to ride for the first time or for someone like myself, who thought she might be too old to ride again. You are never too old and Brek-N-Ridge is a place I hope to board Tyme for years to come.  Louisa Miller. Harbor Springs
LEARNING
Brek n Ridge Farm
January 2023: Working with Karin has nurtured and deepened my understanding of dressage and my relationship to every horse I ride.  She is creative, persistent, and thoughtful in her instruction. There is no question of Karin's passion for the sport and enthusiasm for teaching. She and her entire staff clearly convey a positive, collaborative, and supportive attitude about the entire process of horsemanship which manifests into a welcoming place to be. Best of all, I'm having fun!  Ellen Waller, Harbor Springs
TRAINING AT BREK-N-RIDGE FARM 
Dear Brek-n-Ridge, I believe that there is a difference between 'book learning' and 'actual experience' in many things.  In the beautiful sport of dressage, Karin Reid Offield and her operation at Brek-n-Ridge Farm in Harbor Springs embody the best of both! Karin's many years of experience, competing at the highest levels of national & international dressage, puts her in a class of her own. Not only can she convey the 'how-tos' of a position or movement, but she can tell you how it should 'feel'. For me, that's a win-win combination.
Karin's years of experience, and this cannot be overlooked, have exposed her to best practices for the care & development of horses & riders…and she is actively involved in both.
I, along with my growing 5 year-old warmblood Bleu, have been clients of Karin for several years. Bleu is in training several days/week, both on the ground and under saddle. As a result, we are both learning the best elements of dressage. Because of Karin's experience and commitment to excellence, in my training sessions she is able to isolate my body parts & reconstruct and improve how I ride.
During the last years of  Covid,  I have had that experience.  Karin has worked with me on my hand position, my arm & elbow position, my back position, my leg position and now my foot position. Believe me, I'm thrilled that my muscle memory is starting to kick in!!
Karin and her protégé and trainer Andrew Figures work closely in the development of common goals. They share a genuine goal to make each horse and rider the best they can be.
I travel 3 hours each week to Brek-n-Ridge to learn from the best!! It's time well spent, as I believe that Karin Reid Offield and the Brek-n-ridge staff are a unique and special resource in Harbor Springs, Michigan – a resource to be taken advantage of, encouraged and celebrated.!!
 AT BREK-N-RIDGE FARM
Spring Summer Fall & Winter's 2018-22
"Dear Karin, My horse Power and I have had the privilege of being at Brek-n-Ridge Farm for the past three years. During this time, Power received the best care and attention a horse owner could possible ask for. He is in great condition, and we have had a lot of good times enjoying your escorted trail rides.
Your staff is truly outstanding. Andrew, Mike, Cecile and Elizabeth have all treated Power as though he was their own horse. Being a concerned owner, I never had to worry about him being neglected, as he has always received loving care and attention.
Due to a lifestyle change, we are leaving the Harbor Springs area. We take with us a lot of fond memories of your wonderful farm. Please allow us to express our profound gratitude for making the stay at Brek-n-Ridge an outstanding experience.
Finally, your leadership and standards are hard to match. May the entire Brek-n-Ridge family stay safe and healthy.
Gratefully,  Ed Boutrous
Summer 2021
MENTORING A YOUNG RIDER 2021
Karin, Thank you so much for welcoming me into your wonderful barn. I have loved riding and learning with you for the past 10 months. I appreciate all of the time and energy to have given to help me become a stronger and more skillful rider. Your passion and enthusiasm for dressage has been very inspiring. Thank you for trusting me with your beautiful horses and giving me the opportunity to show Zorro.
I will miss you and the whole Brek-n-Ridge crew, I look forward to visiting!
With Love, Annie Leskey, Harbor Springs
Summer 2021
MENTORING A JUNIOR RIDER 2021
Dear Karin, I am grateful that I had the opportunity to work with you and Andrew this summer. It is great practice for me to learn more about what it's like and how much work is put in to having horses and looking after a stable. I have learned so much already, and will bring what I learned back to Oregon and wherever I go. I am so excited to be at Brek-n-Ridge and to be getting trained here. Thank you so much!! I will happily come back and help out with chores when I am here. I loved going to the Traverse City Horse Show, it was amazing, and I will never forget it.
Thank you, Ella Higgs
Winter Spring 2019-2020
DRESSAGE TRAINING
"At the beginning of winter 2019 -2020, my instructor and the owner of Brek-n-Ridge Farm Karin Reid Offield told me we were going to implement a consistent riding and horse training system with me and my mare Annie. She told me that by Spring I would have a new partnership with her and the ability for Annie to accept the bit with a soft feel. I was skeptical."
"I purchased Annie from Karin two years ago."
Karin said Annie would help make me a really good rider. She said Annie was the best teacher in the barn and that success was "lessons away".
"When I was considering the purchase, I knew Annie wasn't the easiest horse to ride, as she required an intermediate to advanced rider. I felt like I was still learning to ride. At first, we did all kinds of fun stuff like riding trails, cow working, low level dressage and western dressage.  All that time, I was never able to get a soft feel. When I would pick the reins, there was immediate resistance and she would brace in her neck and back. I couldn't ride her properly."
"Today I am happy to say that I am able to get on Annie and immediately get a soft feel. Throughout our work, our "connection" is becoming more and more consistent."
Karin has a system that students can implement, ride after ride, and stick to even when things were not perfect. 'Over the winter months of training, I learned individual techniques, one lesson at a time that once I tried it enough times, I could add that technique or aid to the next step.This method of isolating the aids, and explaining the reasons for their use was clear, fun and I didn't get frustrated in the learning.  I highly recommend the program to anyone that has not been able to succeed with their horse or finds it difficult to progress."
"Late into the spring, the next learning step was to begin the lunge line lessons with Andrew Figures. Andrew is working to become a Teaching Training Certified Instructor by the United States Dressage Federation. Andrew asked me to be a "practice student". For these exercises, in small steps he took away my reins and stirrups at the walk, trot, and eventually the canter. This helped me develop a more balanced and independent seat and helped me to understand how and why to be able to become a rider with each independent body part. Karin's work of consistent simple techniques,  and Andrew's lunge line lessons eventually showed me that the less I did, and the quieter I became when Annie got braced, the better the ride. "
Annie and I are now working on smooth upward and downward transitions, and sometimes we achieve them.  Together we are a work in progress, and I am very pleased with the progress we have made. A big thank you to Karin and Andrew for giving me a new set of skills and believing in me even when I wasn't so sure of myself and for giving me the ability and knowledge to ride Annie in harmony.
Thank you for the Dressage Lessons, Elizabeth Sanchez
Spring Summer Fall 2019
August 2-4 2019

I want to highly recommend Karin Offield and Andrew Figures at Brek-N-Ridge farms! I, along with 4 other ladies, traveled north from our home stable Willow Pond to receive top tier instruction. This weekend completed our 3rd Annual Progressive Riding Clinic at Brek-N-Ridge Farm and every time we have not been disappointed.

During our 3 day clinic we had a combination of private rides and 2 person sessions, each one extremely focused on improving our ability as a rider.  When we are not riding, we are auditing our fellow riders and still taking in invaluable information. Karin and Andrew both have the ability to break down the instruction in a way thats easy for us to understand.  While most of us from Willow Pond are similar riding levels, we did have one more advanced rider, however we all felt that the instruction was at our level, we neither felt the instruction was elementary nor way over our heads. Following each clinic we have been able to take the skills we have learned home and made great progress with our own horses.

Thank you again and we look forward to coming back to Break-N-Ridge farms in the near future!

Regards,

Molly Bonnington, Debby Hanson, Cathy Snyder, Sue Genau, and Karen Boettcher
SUMMER OF 2021 NATIONAL DRESSAGE RESULTS
NATIONAL DRESSAGE CHAMPIONS! Audrey Allen and Hugo Boss US DRESSAGE FINALS, LEXINGTON, KY.
As teachers- we can imagine no greater outcome than a student becoming a champion, a nominee, an Olympic selection candidate, a ribbon winner or a student that comes home at night to tell her parents she is proud of herself.
The end of a summer of horse shows brings each rider and their Coach the knowledge that because of their hard work together with planning and strategy, their achievements show up in the final scores!
Former summertime student at Brek-n-Ridge Farm a few years ago, Audrey Allen – granddaughter of Harbor Springs residents Carol and Tom Titcomb and Wendy Allen family of Boulder Colorado rose to the challenge at the U.S. Dressage Finals in Lexington, Kentucky at the Horse Park. Horses and riders from all over the country traveled to compete in the years' most prestigious event!
With Colorado coach Karen Whitman of Night Hawk Equestrian Center, Audrey and her recently purchased new horse Hugo Boss traveled from Colorado to Kentucky after she qualified in her Region 5 finals earlier this year. Hugo is a nine year old Chestnut gelding and stands 16 hands tall.
They competed in three classes, her first ride earned them a 70.500% in the USEF Test of Choice Third Level and a second place. One judge was judging, sitting at the letter "C".
In her second class, the Third Level Championships for Jr/YR , a lower score resulted from unfortunate partnership bobbles but with three judges scoring the approximate 9 minute ride – one judge still scored Audrey's ride as a second place finish – and since it's all in the details, the average of the three scores given by the judges gave them a twelfth placing.
In her last class on Sunday Afternoon, Audrey and Hugo won the 2nd Level Championship Jr/YR by earning the highest score of 69.921% under the watchful eyes of three NEW FEI international judges. Earning many scores of "8's" the harmony of this team won the blue ribbon and championship recognition.
This third and final ride in Lexington for Audrey and Hugo was the compilation of all the summers work, consisting of her coaches' careful conditioning of the two partners – the horse Hugo Boss and very young rider 17 year old Audrey Allen. It's a huge responsibility and takes dedication and resolve. Congratulations to Karen Whitman.
A YOUNG STUDENT A YEAR LATER December 2019
Dear Karin, Andrew and Elizabeth, Thank you so much for a fantastic (second) summer up here. Summers like these I will never forget. You are the reason I feel I can do what I want with this sport and Karin you were the one who opened my eyes and first got me started in dressage and I can never tell you how much that means to me. Having someone put so much care, time and thought into demeans SO much! The I am a top rider I will always give credit to you all for starting me on this journey! We love you with all our hearts and we'll see you this afternoon!  Love Audrey
A YOUNG STUDENT December 2018
Dear Karin, Thank you so much for an amazing summer!  You have helped Sunset and I so much and I cannot thank you enough. You have cared so much about us and our horses and have been patient with me and also Sunset with his self./ I can't wait until next summer and until then we will send you updates…..LOVE AUDREY
Karin and Andrew, You have made us feel welcomed and at home since the day we arrived. I also appreciate the care and attention you gave my daughter – she is going home with so many valuable lessons and experiences. We'll both continue to practice and will check in periodically about our progress.  Take care, Wendy and Audrey
November 2018
Dear Karin, Thank you so much for the wonderful Progressive II three day weekend of lessons and learning September 24-26th. It was fabulous. Whether I was riding or auditing I truly learned so much. I loved how you broke things down to basic elements and then had us work on each one.
I have taken several clinics over the years and I must say that the way you teach and explain your system not only makes so much sense but also the way you communicate that to the rider is easy to understand. I don't know what I expected, but with all your accomplishments you are so down to earth, and the joy you get from your work is so apparent and contagious!! I felt like a sponge and wanted more.
I am definitely looking towards a repeat in the future. Again many thanks, Debby
JUNE  2018
The Five women who ride at Willow Pond Stables in Saginaw, Michigan (http://www.willowpondstables.net) wanted to find a superbly qualified dressage instructor who might be willing to host us for a 3-day clinic.  We found Karin Reid-Offield and Brek-n-Ridge Farms in Harbor Springs, Michigan and we couldn't have been happier.  We received fabulous instruction in the most beautiful surroundings in Michigan!
Our clinic was hosted by instructor/owner Karin Reid-Offield and her efficient "right-hand man", Andrew Figures who is also an instructor and the barn manager.  The clinic was progressive, and day one started with the basics, such as mounting and dismounting, rein management, with emphasis on learning about contact and pressure.   Day two progressed to more challenging instruction, with lessons dependent upon each riders' ability.  There was special emphasis on posture, leg use and position, in all gaits.   It was a fantastic set up and we were able to test our new skills riding different school horses.  Karin and Andrew even included an extended lesson in troubleshooting and groundwork while always emphasizing safety.
Andrew was so patient, very knowledgeable, efficient and kind.  Karin, despite all of her experience and training, has a laid-back attitude with wit and humor to ease the trepidation we all felt.  Overall, each one of us came away with a greater foundation, better understanding of our equine partners and tools to help us all progress in our journey with our horses.  In fact, we were so impressed that we've scheduled a second clinic in September!  Thanks to Karin, Andrew and the entire Brek-N-Ridge staff!
Warmly,
Roxanna Olsen, Molly Stewart, Sandy Johnson, Cathy Snyder and Karen Boettcher (owner of Willow Pond Stables, Saginaw, Michigan)
To Whom It May Concern,
Karin Offield has been my instructor and friend for many years.  She is the owner/operator of Brek-n-Ridge Farm, a top notch equine facility in Harbor Springs, Michigan.  Due to her experience and business acumen, Karin has 
appealed to a cross section of riders in the local community. Personally, Karin has trained me in various riding disciplines. Also, I was able to indulge my passion in riding with a like minded individual.  A friendship blossomed. Karin is a kind, generous, and devoted friend.
In summary, I highly recommend Karin and Brek-n-Ridge Farm for any endeavor you may seek to pursue.  She will be a valuable asset to any organization or family.
If you have any questions, please do not hesitate to contact me.
Sincerely,
Scott L Fortner, President
Martin and Lloyd Enterprises
398 Country Club Lane
Grosse Pointe Farms, MI 48236
248.417.2727
A YOUNG WOMAN
Dear Karin and Kate, 
"I learned a lot this summer about a type of riding I was totally unfamiliar with, to begin with. Although the hunter/jumper world is about achieving perfection, dressage takes this concept to a whole new level. I was surprised and knocked down a peg when I tried dressage for the first time and realized that all this time I couldn't even ride a proper circle. The beauty of dressage is working to make everything perfect and having harmony with your horse.  It's been a very interesting experience to be judged by the eyes of people who see riding in a whole new way in which doing something "good enough" won't suffice. In dressage, nothing is ever perfect, you always need more flexion here or to be more geometric with your patterns or any number of other things a judge could find. However, I've found that the beauty lies not in the achievement of this perfection, but in the journey with your horse to achieve it."  Thank you Mimi
OUR DEAR NEIGHBOR
Dear Karin and Kate,
I am so happy as your neighbor,to see lovely horses in the fields and so much activity around your stable.  It has been such a pleasure to get to know you, your stable and the kind and friendly staff.  I must thank you for all your patience in teaching a senior citizen of my caliber, not only to ride, but care for the sweet horse a wee bit. The entire experience has been awesome.
Your friend, Joan Cox
DRESSAGE TRAINING 
Dear Karin,
I am so grateful to you for the excellent training experience I had with you recently. I thoroughly enjoyed your approach of training, through working with and understanding the horse's natural tendencies. Your kindness and gentle direction toward both horse and rider were amazing and so helpful in my continued quest towards achievement in dressage.  You definitely helped me focus my perspective on these wonderful animals while keeping both the horse and I safe, safe, safe! But most importantly, you kept the joy in the ride, which is so important to me as an adult beginner!
I am so looking forward to practicing the various techniques I've learned from you. I am certain over time and with persistence, my progress in Dressage will be advanced due to your instruction. I look forward to my next training experience with you and being able to proudly show you my progress towards excellence!
With quiet hands, a long lovely leg, a balanced seat and a confident attitude, I remain grateful. Your student,
Cathy J Snyder
HARBOR SPRINGS LOCAL HIGH SCHOOL STUDENT
Dear Karin,
Stewart and I are such a better team since we started working with you. I have learned so many new things. I swear, when I work with you for an hour after school, I learn more than in seven hours at school. Thank you very much for every thing you've taught me. I can't wait to see where we will be next year!
Thank you again, Marjorie
Thanks for the great card – keep studying hard in school – it's super important!  Love ya, Karin
A Florida family with three equitation/hunter horses that show in Wellington arrived at Brek-n-Ridge Farm in Michigan on June 21st 2014
Dear Karin,
I just wanted to thank you for all your help over the summer and bring you up to date on our progress since we left your farm at the end September. We were all so thankful to escape the unbearable Florida heat and rain and to enjoy the beautiful Michigan summer in your gorgeous facility.
We all (horses included) needed some productive "time away" from a very stressful and demanding winter season. I appreciate you sharing your expertise with us while developing all three horses. The exceptional care and training we had over the summer allowed the girls to step back into the hunter/equitation program without missing a beat.
I appreciate your exceptional attention to every detail for the horses from the moment they stepped off the trailer. You and your team were certainly equipped to handle all aspects of a rehabilitation program from hand walking, to regular schooling rides, and to working with my oldest daughter to make sure she was able to keep the mare on track. You went out of your way to find another horse for her to ride, and we appreciate you making special accommodations for that.
Minnie and my youngest daughter certainly returned to Florida as the "most improved". After six months away from the competitive arena, she had an opportunity to show Minnie this weekend at the SFHJA Charity Show and showed amazing improvements. In spite of nervousness and some bad weather, she placed in every class over fences finishing 1, 5, 7, and 8 and placing 3rd in the under saddle portion. The ribbons are less relevant than the improvements in her confidence and riding ability. She is definitely a better horse person and a more confident rider for having spent time with you at Brek-n-Ridge Farm.
I know there were many who were skeptical about us leaving South Florida to spend a summer in Michigan at a dressage barn of all places! It proved to be an invaluable experience for all of us. It's obvious that you've poured your heart and soul into this amazing farm and your passion for the horses evident in everything you do.
The techniques that we learned over the summer have not been forgotten. We all continue to work on getting the horses to use their hindquarters, and it has been fun to watch the girls as they notice the subtle differences in how other horses are ridden while being schooled for the ring. The virtually invisible halting technique is still working for us as we continue to work to have them halt and stand in perfect form. We continue to work on improving transitions.
 Please give our best to Kate and Andrew.
Sincerely,Shawn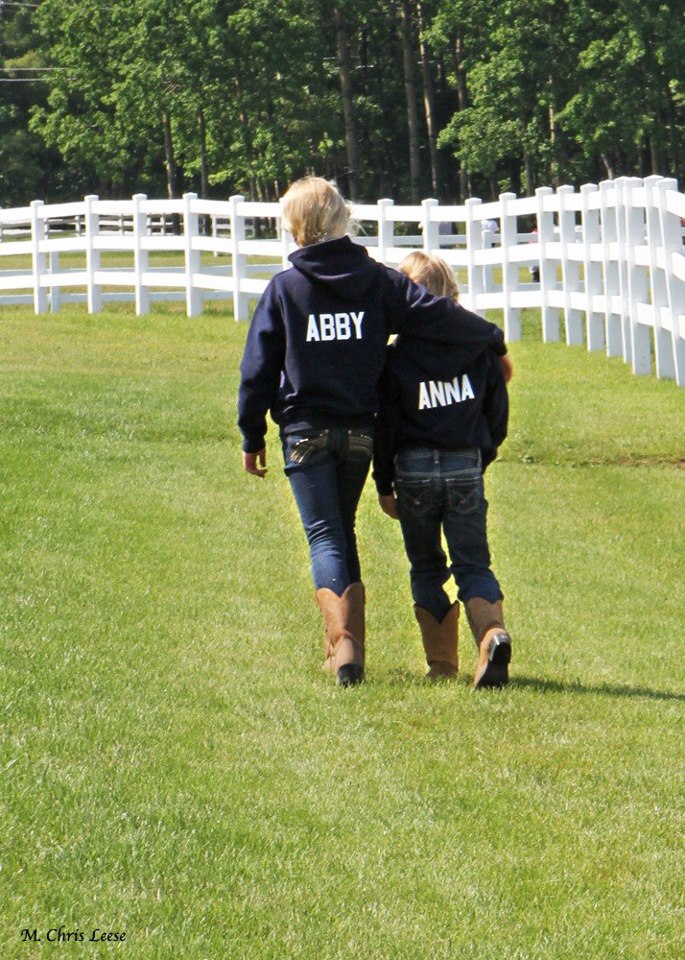 YMCA Program at Brek-n-Ridge Farm 2014
Dear Karin and Kate, Thank you so much for providing the wonderful opportunity for Abby and Anna to learn about horses and riding. Your partnership with the YMCA has enabled us to get involved in a sport we might otherwise not have been able to. Not only is Brek-n-Ridge Farm a stunningly beautiful property and stable, but I can't express enough how impressed I've been with how you interact with my girls. From the beginning you honed in on each girls personality and have connected with each so gracefully.
I have come to appreciate that riding is more than the word alone implies. You have taught Anna and Abby more about confidence, poise, communication and respect. I especially thank you for that ! We look forward to continuing lessons with you and wouldn't hesitate to recommend you to anyone.
Sincerely, Dana Ashton
A FATHER AND HIS CHILDREN SEPTEMBER 2013
Wow. YOU are AMAZING.
My kids learned from you. And I must confess…I learned from you. You are a true professional but more than that, you care so deeply about what you do that it comes through in every aspect of the experience that me, our pony "Ice Man", and my kids had at Brek-N-Ridge Farm.
And when I say that I learned from you…I don't just mean that I learned some things about how to care for horses or how to ride a horse but something more high level and global – that is – how to be a true professional; how to provide extreme customer service; and how to deliver value to your customers that goes way beyond just getting "over the bar".
I'm so impressed Karin. I'm so thrilled with our experience.
Thank you. Thank you for everything Karin….
And you can be sure we will follow your prescribed course of action for how we care for "Ice Man" going forward….
Warmest regards, 
Jeffrey M. Sloan, Founder, Managing Partner  www.ariaventures.com
248.766.2903
JUNE 2013
" I love to be at these amazing horse back riding lessons because there are great teachers like Kate and Karin. The horse's are just amazing that I just want to stay there everyday. Thanks for letting me come. I love you guys, Love Haley D. " YMCA Student
A YOUNG RIDER THAT WENT ALL THE WAY TO THE TOP March 2013 
Mary has been riding 6 days a week since she started leasing a little pony,  Noel.  We started the lease the middle of November and went to two shows the first two weekends of December. She rode again in a January show the weekend we returned from Christmas holidays.  It was the first time she had competed in regular pony hunter, not children's. It was a good challenge for her since the course was different from what she was used to and the jumps were 3″ higher. She also competed in beginner ponies and she got a first place in equitation.  Noel is an energetic pony, similar to Annie, and although he has some issues with speed and straightness over jumps, Mary is really beginning to learn how to control him.  She has been practicing a lot using all of the dressage techniques she learned from you last summer, and they have made the biggest difference in the way she is able to handle this pony.  Your instruction has been priceless and has given Mary so much confidence.  Everyone at the barn is so impressed with how well she is riding Noel.
I wanted to check in about this summer.  We had talked about leasing Annie and I did not know if that still worked.  Mary is excited to ride with you again. Mary would love to do a work study also for a few days if that works.  Whatever you are doing, would be great! Mary and I read your educational piece on www.lingh.nl . It was very informative and has Mary really excited to learn more.
I hope you have been having a good winter.  It sounds like there has been a lot of snow.  Say hi to Kate and Andrew.
A LOCAL WOMAN WANTS A HORSE December 2012
Dear Karin, 
Where to begin …several months ago, after a few lessons, you asked me if " a horse was in my future?" to which I replied 'in a year or two" – well here we are – hooked!  ( Hook ,line and sinker!) – I have learned so much in the short timethat I have known you – I have learned how to walk a horse and how not to walk a horse – how to get on a horse and not get on a horse – how to pick sawdust from the tail – or more appropriately 'how not to'  and SO MUCH MORE! I am very grateful. I appreciate your style of teaching and admire your profound knowledge of the sport.
I can't begin to thank you for making the purchase of Matisse happen – you truly went ABOVE AND BEYOND! We are so excited to learn from the BEST! Thank you for allowing us to become a part of your barn – we feel very honored!  
Karen and Matisse
Summer 2010
Dear Brek-n-Ridge,
Thank you so much for the helpful lessons, and friendly learning environment. Riding with you has greatly improved my riding and training abilities. I have been able to apply what I have learned to other horses no matter what discipline they have been trained for.
Your horses are some of the best, and make learning a fun challenge for students of all ages. My favorite is Starburst, an experienced lesson horse who still has some things to teach me , even after 14 years of riding. Starburst has taken me over fences, through dressage patterns, and on trail rides, she is a wonderful teacher !
Trainer and instructor Kate Etherly has helped me discover small mistakes in my riding that, once corrected, make a huge improvement. Her unique explanations and demonstarations have greatly improved my riding abilities.
Thank you Karin Offield for the opportunity to ride on your wonderful farm.
Thank you, Cecile Walsh  June 2011
A YOUNG PROFESSIONAL FROM GRAND RAPIDS Spring 2010 
Dear Brek-n-Ridge,
After meeting Karin Offield at 'Dressage by the Bay' in Traverse City, I knew that she was the trainer for me.
Her keen eye helped me evaluate my position and make the necessary corrections for a more effective seat.
Her training concepts were very logical and in line with how I believe a horse should be trained.
A few weeks later, I decided to do a 4 day clinic with Karin and we did 5 private lessons. These lessons varied in length, intensity and instruction according to what she felt my horse and I needed. I was very impressed with the one-on-one instruction I received and Karin helped me develop a system that would work for both my horse and me, once we returned home.
I really appreciated her thoroughness and consistency in training. Her instruction was clear and uplifting and when I struggled to fully understand something, she had all the patience in the world.
I am happy to report that the system Karin helped me develop has worked! My horse is the same at home as he was at her facility, Brek-n-Ridge Farm, and although I know we will still have bumps in the road, I am much more confident knowing that we are on the right track!
A concept that was ingrained in me throughout my training with Karin, is the fact that I am the only consistent factor in my relationship with my horse. This pertained to my position, my attitude, the application of my aids and even regarding the care of my horse. Horses are attracted to leadership and blossom under consistently productive handling.
I look forward to many years of training and clinics with Karin Offield here in Michigan at her barn, Brek-n-Ridge Farm in Harbor Springs, Michigan and at my own Serenity Farm in Grand Rapids, Michigan. 
Sincerely, Janine Holmes
Owner of Serenity Farm in Grand Rapids Michigan
A LIFELONG DREAM OF OWNING A HORSE COMES TRUE May 2011
Dear Brek-n-Ridge,
Recently, my husband gave the green light for me to buy a dressage schoolmaster.  I was thrilled beyond belief.  How many women could be that fortunate?  My trainer, Karin Reid Offield, was very happy for me.  The difference between a pro like Karin; however, and the little amateur me, is that I was thinking with my heart and Karin was thinking with her head.  Having bought and sold many horses in her lifetime, including the fabulous wonder boy Lingh, Karin knew it would take a while to find the right horse for me.  I announced that I was going to Wellington, Florida for the month of February in search of my horse.  I think Karin was nervous that I would traipse off and buy the first horse that flashed its big brown eyes at me.  Now, came the time when a wise, dedicated trainer stepped in.  Even though Karin was leaving for Europe on business, and to visit Lingh, she immediately said, "I'll meet you in Wellington the first week of February and fly in directly from Germany."  I couldn't believe my ears.  How many trainers would do that for a student?  Karin began a fast and furious month of contacting professionals she knew and trusted in the Wellington area and we were off and running.
When Karin arrived in Wellington, she called me immediately and said, "Have you got your riding clothes ready?"  I hesitantly said, yes and her response was "Great, because I'll meet you at the Tackeria at 8:00 a.m. sharp tomorrow.  We will be riding and trying horses all day."  That turned out to be only the first of many days of riding beautiful, highly trained dressage horses.  As we visited each stable, Karin would tell me the background of each horse.  The other trainer or owner would ride the horse first so we could both watch it move.  Then Karin would ride the horse, all the while talking to me and telling me what she was feeling.  When it was my turn to ride the horse, Karin gave me a sense of confidence and also little hints as to getting the most out of the horse.  When we left each farm, we took notes as to the positives and negatives of each horse.  Karin , early on in the game realized that no matter how wonderful a horse was, it had to pull resoundingly at my heartstrings.  Throughout the entire process Karin encouraged me and was very positive.  No matter how many horses we tried (and we tried quite a few) neither she nor I was discouraged.  I secretly had a feeling that the right horse would be in Florida.  One day Karin announced that someone was bringing an Intermediare I Schoolmaster down from Northern Florida for us to try.  When I first saw Rising Sun I knew she was something special – and so did Karin.  After riding the beautiful mare for two days we both did a high five and smiled and laughed the rest of the day.  This was the easiest horse transaction I have ever undertaken – thanks to Karin and also to Kate Etherly.  The vetting was set up by one of the top equine vets in the country, Brendan Furlong, all the way from New Jersey.  Karin and her staff followed up with all testing and x-rays.  I never had to worry about shipping – all was taken care of for me.
Throughout this whole procedure, Karin really cared about me.  She wanted to keep me safe and find a horse who could help complete my dreams.  With Karin, I have not just a trainer – I have a true friend.
I must also say thank you to a wonderful woman and former owner of Rising Sun, who was sweet, honest and truly in love with her mare.  Thank you for parting with the girl who now has won my heart.  I wish you well as you continue your travels in the world of dressage, Nancy Hutson.  You obviously loved this tremendous mare very much as it shows in her loving nature.
A big thank you to Mary Ann Grant and Carol Grant for helping so much in Wellington and a big hug and laugh to Marcel for all of our fun antics.
Thank you Karin!
Sincerely, Nancy Anderson and Rising Sun May 2011
Andrew, Kate and I want to thank all of our customers, students and friends for joining us at the farm and helping make the summers of 2010-2019 absolutely wonderful. Kate returned to England for family matters and Andrew and I took over the stable management.
We want to thank Kate for her years of service and love for the animals.
Respectfully, Karin and BnR Team