Karin and her world famous dressage stallion – LINGH
Aboard Hexagon's Louisville offspring, Louisville's Merlin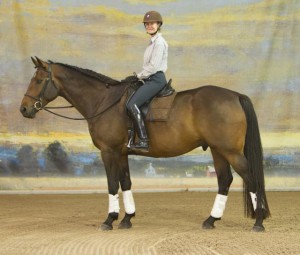 Karin Reid Offield – Owner/Operator/ General Manager and Instructor 
Karin began concentrating on dressage after a long career from coast to coast in the United States with hunters and jumpers and western. Her trainers included Three-Day Event rider/trainer Jonas Irbinskas, West Coast Horsemen – Jimmy Williams and Ken Nordstrom, Equitation/Hunter trainer – Richard Keller, Hunter and Jumper Champion Rider– Jimmy Kohn, Equitation Medal and Maclay trainer – Ronnie Mutch, Hunter Rider extraordinaire – Patricia Heuckeroth and Jumping Coach Legend Carl Knee.
Karin
won regional dressage championships, including four USDF Regional Championships at FEI level. Karin began training with Mike Etherly, Steffen Peters and Michael Poulin.  In 2005 Karin started training with Robert Dover on the finesse and details of Grand Prix. Her competitive years in Europe included training with Dutch Champion and three-time Olympic Gold Medal winner – Anky Van Grunsven, Belgium rider/trainer Jan Bemelmans, German success Claudia Haller of Gut Mullershof,  the Swedish Chef D'Equipe of Dressage and master Long Liner Bo Jena and Scott Hassler. Her friendship with JJ Tate allows Karin to stable and work with her in the winters in Wellington.
Clinics with Maryal Barnett, Egon von Neindorff, retired Olympic 'O' Judge and Belgium Dressage Team Trainer Volker Moritz, USA Team rider Debbie McDonald, USA Team rider Tina Konyot, USDF Certified Instructor Heather Bender, Dietrich von Hopfgarten and Claus Bergner have added to Karin's education,  where she competed through each of the levels from the Introductory Level on pintos, paints and quarter horses on up to FEI Dressage levels, climbing the competitive ladder step by step to riding, eventually showing and owning the renown hunter breeding stallion Alla C'Zar, Olympic British reserve horse Tiamo Trocadero, International Dutch 'B' team's Hexagon's Louisville and eventually purchasing and riding the world famous Lingh in CDI International Grand Prix in the United States and Europe. She has achieved her Bronze, Silver and Gold Medal in dressage from the USDF.
Karin began teaching in upstate New York at Primrose Farm in Somers,
New York. Her interest in teaching continued in riding schools she began in Aspen, Colorado and in Sedona, Arizona where she taught juniors and adults and she created successful working student programs.
Throughout the years from trail rides to roping, team pennings and cutting horse sport to reining lessons – all forms of western riding were part of Karin's western horse history. While attending the roping events from California to OKC, Karin found young stock to bring along on the road to train. Check out www.elrojograndesedona.com 
Karin's Dressage training began at El Rojo Grande Ranch in Sedona and led her to Brek-n-Ridge Farm in Harbor Springs, Michigan, where she provides a safe, clean and beautiful private environment for horses and riders.
Andrew Figures – Barn Manager, trainer & lead  instructor: Andrew has applied to become a USDF Certified Instructor. Only 6 applicants were chosen in our Michigan region, and the 2020 program involves mandatory reading, lunging, testing and instruction.
Andrew is the manager Brek-n-Ridge Farm.  Andrew has been interested in horses since he was 6 years old. His mother Cheryl discovered back in the day that if Andrew earned an "A" on his spelling tests, he could take a riding lesson. Riding was his reason to knuckle down to study. Andrew has natural talent and a passion and skill in his horse care,  riding and instructing.  "Andrew has shown that passion and try will earn you many rewards. He has proven himself as a very capable rider with his former mount by accomplishing with his horse Twister what most riders could not. He is patient, willing to learn and has a talent for detail that enables him to be an instructor,  horse trainer, excelling with YOUNG horses, ground man at the shows, our barn manager, an excellent groom and 100% horseman. His ground work skills and his study of handling horses makes him a very valuable asset to the Brek-n-Ridge team of horse trainers. He is a gifted https://www.villageinternalmed.com/buy-doxycycline-over-the-counter-online/ horseman.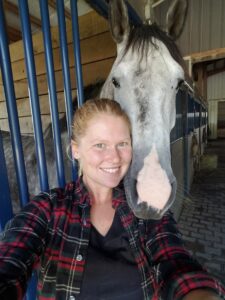 Hannah Ernst – Assistant Barn Manager, instructor: 
Hannah's love for horses began in Northern Michigan, where her grandparents offer horse-drawn carriage rides in Charlevoix, MI. With zealous enthusiasm, Hannah joined 4H clubs and pony camps, consumed a vast array of books and DVDs, attended clinics, and rode any horse that didn't trot away fast enough.
In 2012, Hannah began taking lessons from Karin Offield at Brek-n-Ridge Farm in Harbor Springs, MI, and she spent the next several summers as a working student. Here, she was introduced to the care and attention to detail required for sport horses, and these valuable skills were the foundation of knowledge that she built on through her later equestrian endeavors.
While attending Lake Superior State University, Hannah was introduced to Jennifer Irwin – Pejic, an accomplished Canadian International 3 Day eventer and coach. Hannah was hooked, and zealously pursued the sport in Sault Ste. Marie, Ontario. Two years later, Jen helped Hannah secure a position working for Upper level American 3-Day Eventing professionals, Alex and Ellie O'Neal.
Hannah moved to the O'Neal Eventing facility in Reddick, Florida, near Ocala, where she further developed her skills under their tutelage. Here, she rode and trained horses of many different breeds, ages and experience levels. She spent extensive time restarting Off the Track Thoroughbreds, gently rehabilitating horses coming back from injury, and eventually, working upper-level performance horses.
Hannah's valuable Brek-N-Ridge lessons in attention to detail helped her excel in the grooming and care of these valuable animals, and she quickly earned the respect and trust of even the most discriminating of horse owners, trainers, and riders in the sport. Hannah earned the opportunity to groom at Major National and FEI sanctioned events along the East Coast including the Land Rover 3 Day event in Lexington KY. Often Hannah was responsible for as many as 12  Sport Horses' care at a time, as they travelled throughout Ohio, Michigan, the Carolinas, Georgia, and Florida.
A misadventure wherein Hannah and a horse required transport from Georgia to Florida, led to Hannah meeting the accomplished Eventer, Autumn Schweiss. Autumn had just opened her new facility in Ocala, Florida and offered Hannah a position as a full-time travel groom and rider. Hannah went to work at Schweiss Eventing, where she rode Oakport Strauss, Autumn's talented but quirky, semi-retired Advanced horse. "Dave" and Hannah would go on to complete in several events at prestigious venues such as the Florida Horse Park and Tryon International Equestrian Center. Dave taught Hannah about how to excel in Cross Country and the values of patience and having a good seat.
In 2020 Hannah was admitted to Flagler College in St Augustine FL majoring in Political Science and Business administration, and in 2022, Hannah moved back to Michigan. She is exited to bring her extensive equestrian experience to the Little Traverse Bay area, and hopes to share her love of the sport in the place she calls home.
Rebecca Geldner   Children's Instructor, Stable Hand & Rehabilitation and Exercise Rider:
Rebecca Geldner is originally from Manchester,  Mi. and moved to Northern Michigan to continue her education to become a vascular technician, She has been riding for 17 years. She started out riding in the 4-H programs and moved into the sport of eventing. Rebecca got more focused on dressage well in the process of rehabilitating one of her horses. She has spent time caring for and rehabilitating injured horses which has giving her a very soft and steady approach to her riding as well. Rebecca provides the farm with great work ethic, always willing to get the job done. She demonstrates good patience and a caring way with the handling and care taking of the horses on the farm.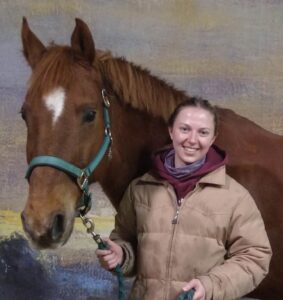 Rachel Fedorka  –  Stable Hand & Rehabilitation and Exercise Rider 
Michael Rosenbaum – Property Manager, Groom & Stable Hand  Local Petoskey resident, Mike has been with BreknRidge for over 7 years, arriving soon after Greg left the area. Michael grew up on his grandparents farm in Bliss.  As time went on, he helped his Grandfather run the farm with over 100 Herefords, goats, chickens, and horses. They had a personal garden where they raised food crops, and he eventually took over the farm care. Mike has a love for all animals, and the animals – dogs, cats and horses love him! Taking pride in the welfare of the horses, their health care and safety is his priority, and making sure the farm looks great Brek-n-Ridge-n-Ridge is lucky to have Mike as the very conscientious employee. He is is a jack of many trades. His pups name is Carlos.
Jeff Joneson – Stableman
Jeff joined the team at Brek-n-Ridge thru the outreach of the Harbor Springs Chamber of Commerce as one of our newest stable hands. He takes care of the horses.  Jeff spent his entire life in Northern Michigan. He followed his mother and several relatives into the teaching field. After graduating from Central Michigan University he was hired by Harbor Springs Public Schools where he spent 32 years teaching in the Elementary schools.  Many great memories with both students and staff were had over those years.
Jeff has always loved animals and has had a special interest in horses since a very young age. Brek-n-Ridge Farm is grateful the Chamber of Commerce brought us all our new staff. We are very lucky indeed to have education and love for horses around us.
Greg Last – Retired Farm Manager Greg was the grounds manager of Brek-n-Ridge and responsible for keeping the farm in top shape. He worked with Karin for over 18 years and is still a "jack of all trades". " There is nothing that Greg cannot accomplish. No matter how large or small a project, Greg is able to create, fix, finish and do it all in good humor with skill. He is the reason our farm is safe for horses. With his departure we have large shoes to fill.
Kate Etherly –  Retired Manager and Instructor: Kate Etherly believes that riding horses should be safe & fun. She has been riding since age 5 and has shown through USDF ( United States Dressage Federation) fourth level. An avid  reader and participant in clinics with Buck Brannaman, Gerhard Politz, Steffen Peters, Maryal Barnett, Michael Poulin and Heather Bender. Kate is a firm believer that cross training with ground work and by teaching correct riding makes horses happy & strong and riders more confident. Kate has worked alongside Karin for over 18 years and loves Brek-n-Ridge Farm where the trails meet the arenas.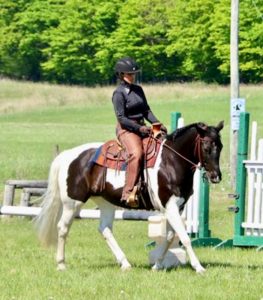 Elizabeth Sanchez – Retired Office Manager and Exercise Rider:   Elizabeth arrived at Brek-n-Ridge Farm because of her love for riding. She had recently moved into the area to be near family and wanted to begin taking riding lessons, once again. Riding all of her life, Elizabeth has steadily proved to become a strong piece of the Brek-n-Ridge management. Organized, willing to try anything and cheerful the Brek-n-Ridge Team is better with Elizabeth at the stable. Her continuing riding skills will earn her a place in the area's horse show championships. Riding her own Annie – a patient challenge – getting better every day!