FALL AND WINTER 2017
On November 4-5 a Saturday and a Sunday Endel Ots gives a clinic in Grand Rapids, Michigan. The clinic is hosted by Western Michigan's All Dressage Association (ADA) a Group Member Organization (GMO) of the United States Dressage Federation (USDF). Their mission is to provide education, information, and high-quality shows for dressage enthusiasts in West Michigan. Thank you Thomet Stables for bringing Top Sport to us! Their flyer will be posted on Brek-Ridge Farms FB Page @thestablearoundthecorner
On November 7-8 a Tuesday and a Wednesday, we welcome Maryal Barnett back to the farm for a Dressage Clinic. We are proud to be the "stable around the corner" where riders and teachers meet for education and good ole fashioned horse fun. Ride times are filling up quickly, so secure your spots soon as possible. No charge for auditors, and Tuesday night dinners are fun, let us know if you can join us.
The latest Dressage news is that we have a local horsewoman that hopes to bring to the Northern Michigan area more education and resources. She writes "The goal is to bring education and schooling show assistance to the area (think clinics, symposiums, un-mounted seminars, qualified judges for shows and clinics, a chance to make our SSHS qualifiers for the Midwest Regional Schooling Show Championships…. resurrecting the GLEF Dressage??? ) Plus, the MDA offers a great professional's only support group, continuing education and GRANTS." So, if you have not received an email please let us know here at Brek-n-Ridge and we will pass on your contact info for more details.
On November 10-11, a Saturday and a Sunday there is a clinic in Kingsley, Michigan. We are attached the flyer here – hope you will attend. I don't personally know Debbie but I am a fan of the CHA programs and the instructional guide lines it requires to be a CHA Certified Instructor.
Lots of news to catch up on in mid October. Regional Finals, clinics, Championships and new puppies and kittens. At this time of the year in the north, country life is calm. Our hearts and prayers go out to all of those affected and effected by the weather, mother nature's voice and the loss of so many friends, pets, and loving horses. Let us know if we can help up here in Michigan.
The first announcement today is about our up-north friend and colleague Sue Morisse that competed and was third in the World with a 72.2095 % ( a 3.9% pt. behind the winner ) behind such notable dressage riders as Joann Williams and Francis Carbonnel in the Western Dressage Finals, held in Guthrie, Oklahoma. 9/28-10/1 at the famous Lazy E Arena. 9600 Lazy E Drive, Guthrie, OK. She won the World Championship Haflinger award.
As the host of this great event, THE MISSION OF THE WESTERN DRESSAGE ASSOCIATION® OF OKLAHOMA IS TO BUILD AN EQUINE COMMUNITY THAT COMBINES THE WESTERN TRADITIONS OF HORSE AND RIDER WITH CLASSICAL DRESSAGE. WE HONOR THE HORSE. WE VALUE THE PARTNERSHIP BETWEEN HORSE AND RIDER. WE CELEBRATE THE LEGACY OF THE AMERICAN WEST. A wonderful sport, still new to many.
Sue's horse Sabreena Sue CHRF is the most beautiful Haflinger, as the pictures show here…..Pictured here with. trainer/ mentor/friend Maryal Barnett.
Congratulations Sue and Sabreena GOOD GOING !
Buck Brannaman September 8-10. Petoskey, MI
Classes: Horsemanship 1 (9:00 AM), Cow Working (1:30 PM)
Both classes are full.
Venue: Emmet County Fair, 1129 Charlevoix Ave. Petoskey, MI 49770
Details: Outdoor Arena, bring your own chair. The fairgrounds are close to hotels and restaurants. There is camping available onsite as well. No dogs allowed.
Vanessa Voltman Clinic at Brek-n-Ridge 3 PM -5 PM September 8
Maryal Barnett Clinic September 11th Tuesday starting at 12 noon to 6:15 PM and September 12th Wednesday starting at 8 am to 2:15. Auditors are welcome at no charge.
++++++++++++++++++++++++++++++++++++++++++++++++
SUMMER 2017
For a more serious reflection from Karin, follow this: Early in the spring I received a call from a young woman that was going to be spending her summer in Harbor Springs. She asked me for a working student position at BreknRidge.
(Over the years,I bet from approximately 1992 until I began living in Europe, then starting up again in 2010, I have had working student programs for young riders -in jumping, dressage, vaulting programs. When Kate and I started up the teaching and camps at the farm in 2010 we accepted working students that helped us keep our lesson programs vibrant and busy. We gave a lot of lessons, and we had a working student for every instructor. That's how we accomplished it, and we couldn't have succeeded without them. Hannah Ernst went on the ride and work with top three-day event riders in Ocala – that is just one successful example.)
This summer was different. We accepted one working student and I would like to introduce her to you all – meet Sophia Sears and her horse TRES. Invite them, watch them, include Sophie in the clinics – she is a special rider and I am so very pleased to become part of her dressage career. Thanks for working so hard for us this summer, Sophie…keep up the good work! Karin, Andrew and Liz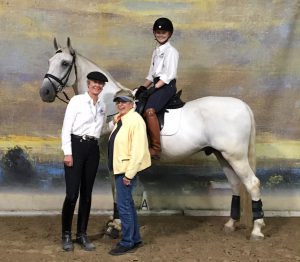 SPRING 2017
This spring I was feeling lucky. The stable was slim and fit with not too many horses; Andrew Figures had stepped into the management shoes that were hard to fill; my Louisville offspring Merlin was done growing and looked more and more like his father; and then the phone rang again….with good news. A client brought VIKING to Brek-n-Ridge Farm for the summer. We were able to use him for lessons, in between his owner's rides. This was
exactly the concept that we had had from the beginning in 2010 – give our boarding horses a bigger and fuller life by using them in our lesson program. Many owners just don't have time to give their horses the kind of time horses are able to offer and many riders just cannot own or keep a horse. It's a win win.
So, here comes the fall and with that VIKING goes home but not before a proper introduction….VIKING – owned by
John and Celena Cowen, Ferris Farm in South Lyon. Viking is 16.1 Hands, 10yr old Friesian, schooling 1st and 2nd level.
Thank you so much John and Celena,
Best regards, Andrew Figures and Karin Offield