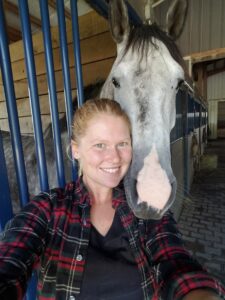 The last few years have been tough for all of us – but we have been so lucky to have amazing employees that are caretakers of horses and shared their days with us. We began looking for a long term horse person that could help modafinil us share BreknRidge-n-Ridge Farm with the community. We found her!
Welcome back Hannah Ernst –
Hannah's love for horses began in Northern Michigan, where her grandparents offer horse-drawn carriage rides in Charlevoix, MI. With zealous enthusiasm, Hannah joined 4H clubs and pony camps, consumed a vast array of books and DVDs, attended clinics, and rode any horse that didn't trot away fast enough.
In 2012, Hannah began taking lessons from Karin Reid Offield at Brek-n-Ridge Farm in Harbor Springs, MI, and she spent the next several summers as a working student at Brek-n-Ridge Farm. Here, she was introduced to the care and attention to detail needed for sport horses, and these valuable skills were the foundation of knowledge that she built on through her later equestrian endeavors.
While attending Lake Superior State University, Hannah was introduced to Jennifer Irwin – Pejic, an accomplished Canadian International 3 Day eventer and coach. Hannah was hooked, and zealously pursued the sport in Sault Ste. Marie, Ontario. Two years later, Jen helped
Hannah secure a position working for Upper level American 3-Day Eventing professionals, Alex and Ellie O'Neal.
Hannah moved to the O'Neal Eventing facility in Reddick, Florida, near Ocala, where she further developed her skills under their tutelage. Here, she rode and trained horses of many different breeds, ages, and experience levels. She spent extensive time restarting Off the Track Thoroughbreds, gently rehabilitating horses coming back from injury, and eventually, working upper-level performance horses.
Hannah's valuable Brek-N-Ridge lessons in attention to detail helped her excel in the grooming and care of these valuable animals, and she quickly earned the respect and trust of even the most discriminating of horse owners, trainers, and riders in the sport. Hannah earned the opportunity to groom at Major National and FEI sanctioned events along the East Coast including the Land Rover 3 Day event in Lexington KY. Often Hannah was responsible for as many as 12 Sport Horses' care at a time, as they travelled throughout Ohio, Michigan, the Carolinas, Georgia, and Florida.
A transportation misadventure led to Hannah meeting the accomplished Eventer, Autumn Schweiss. Autumn had just opened her new facility in Ocala, Florida and offered Hannah a position as a full-time travel groom and rider. Hannah went to work at Schweiss Eventing, where she rode Oakport Strauss, Autumn's talented but quirky, semi-retired Advanced horse. "Dave" and Hannah would go on to complete in several events at prestigious venues such as the Florida Horse Park and Tryon International Equestrian Center. Dave taught Hannah about how to excel in Cross Country and the values of patience and having a good seat.
In 2020 Hannah was admitted to Flagler College in St Augustine FL majoring in Political Science and Business administration, and in 2022, Hannah moved back to Michigan. She is exited to bring her extensive equestrian experience to the Little Traverse Bay area, and hopes to share her love of the sport in the place she calls home.
In June of 2023, Hannah has now returned to BreknRidge-n-Ridge Farm to work and share her experience and passion for horses with others.