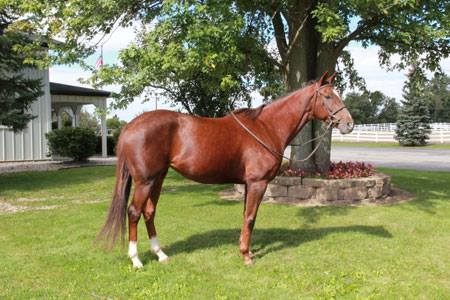 CONSIDERING A THOROUGHBRED ?  Ask about this kind mare.
This 6 year old mare is for sale, call me or Kate Etherly at 231-242-0012.    I like her, and she is easy to ride. Even in the chilly weather, she is sensible.  She's stabled at Brek-n-Ridge Farm in Harbor Springs, Northern Michigan, two hours north of Traverse City. She will be here until the right person comes along. It's a cool video – check it out. http://www.youtube.com/watch?v=nBK0b9qz4qg
For sale: Thoroughbred mare, with papers. Suitable for Adult / Youth / Amateur. Sensible and quiet. Trail rides 3-4 times a week along with arena work. Huge potential and big movements. Safe horse. Easy jumper, experience in dressage arenas, might be a terrific three day eventer. Has shown in dressage and jumping, yet she is still green and ready for YOU to put on the final touches.  She is very smart, does NOT want to touch the rails, and will be an easy horse to ride in the dressage arenas.
• Super calm in cross ties
• Easy to turn-out, good in groups
• Affectionate
• Nice personality
• Picks up feet easily
• Clips, trailers and ties
• Easy to mount, narrow – bodied not wide in the ribcage
• Listens to rider with very light aids
• Careful and observant of her feet
• Easy learner and willing
• Balanced and easy changes
• Great walk, forward with big overstep
• An elegant and easy to regulate trot
• Adjustable canter stride, easy to collect
• Great trail horse, forges rivers, ponds and lakes