PRESS RELEASE: AUGUST 3, 2014
LOCAL GIRL BECOMES CHAMPION HUNTER RIDER AND HAILS FROM BREK-N-RIDGE FARM
Harbor Springs and Wequetonsing's summer resident fourteen year old Mary Otto of St. Louis, Mo. and daughter of Mary and Bob Otto of took part in Traverse City's own Horse Shows by the Bay Equestrian Festival. The equestrian festival was held in July at local residents's Karin Flint's Flintfields in Williamsburg, Michigan.
During Week One of the multi week long jumping competition, Mary was Champion on Dakota in the Younger Childrens Hunter division. Week Two Mary was Second on her new 5 year old Dutch Warmblood named Enterprize in the prestigious Children's Hunter Classic. Week three Mary was Reserve Champion on Enterprize in the Children's Hunter Classic. Her St. Louis trainer is Sarah Mechlin, at Mechlin Farm in Wright City, Missouri. In between shows Mary continued to ride this summer with Karin Offield.
Mary says "When I learned to ride at Brek-n-Ridge, I rode and showed Boxcar Annie. She was the perfect pony for me to learn on. Her energetic attitude with just the right amount of stubbornness ensured that I learned how to do everything correctly if I wanted her co-operation. I gained lots of confidence riding Annie, and along with Karin's instruction I learned a lot of techniques that I use on my own horses everyday. Riding at Brek-n-Ridge Farm for the past three summers has been an opportunity that I will never forget."
Mary and Dakota galloping and jumping to win.
Photo credit: Bob Otto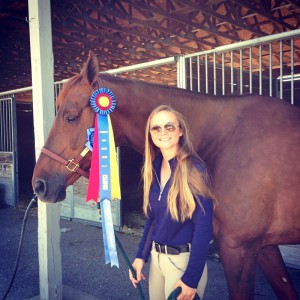 Mary and Dakota – Champions
Photo credit: Bob Otto